Puerto Ibañez - Chile Chico
IN OUR PLATFORM YOU CAN BUY YOUR TICKETS IN ADVANCE, SINCE SPACES ARE LIMITED. OUR PAYMENT METHOD IS WEBPAY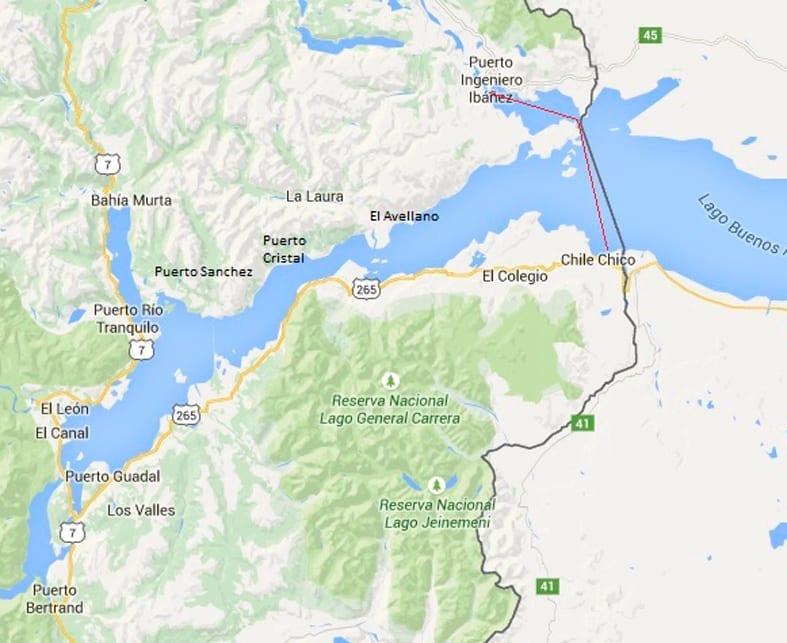 From Puerto Ibañez and to Chile Chico, we will sail about 2 hours and 15 minutes by General Carrera Lake, the largest in Chile and the second in South America, after Titicaca.
Lake General Carrera / Buenos Aires is a lake in South America, located in Patagonia and shared by Chile and Argentina. One side of the border has different names, both recognized internationally: in Chile it is known as Lake General Carrera (officially since 1959) while in Argentina it is called Lake Buenos Aires. It is also known by the autochthonous name of Chelenko, which would mean "stormy waters".
This lake has an area of ​​1850 km², of which 978.12 km² are in the Chilean Region of Aysén of General Carlos Ibáñez del Campo, and the remaining 880 km² belong to the Argentine province of Santa Cruz, which in the largest lake of the Chilean territory, and the second of Argentina.
ROUTE (Chile Chico - Puerto Ibañez, or Viceversa)
Low Season (Between March 16 and December 15)
Departure time from Chile Chico

Departure time from Puerto Ibáñez
*Dangerous cargo journey.
High Season (Between December 16 and March 15)
Departure time from Chile Chico

Departure time from Puerto Ibáñez
* Travel of dangerous cargo.
Notwithstanding the foregoing, and in the event of unforeseeable circumstances or force majeure or others that imply delays in the hours of landfall and / or departure, the hours may differ from those indicated in the preceding tables.
Free during school period

Car / Trucks up to 5.5 meters
Any person who proves an age equal to or greater than 60 years is considered an older adult. The operator may request the respective identity card.
The operator may request the Disability Credential to prove such condition.
Students must present a valid national student card (TNE). Student rate will be free during the school period, that is, between March and December. In January and February period, adult rate must apply.
Vehicles over 5.5 meters long pay a fee per linear meter.
| | | |
| --- | --- | --- |
| Chile Chico to Puerto Ibañez | | |
Monday to Friday
from 09:00 to 13:00 and from 15:00 to 18:00

Monday, Tuesday and Thursday
from 08:00 to 12:00 and from 14:00 to 18:00

Every day
Two hours before departure, except for the dangerous cargo trip (Closed Tuesday).

Saturdays and Sundays
Closed

Saturdays and Sundays
from 08:00 to 11:00 and from 14:00 to 17:00